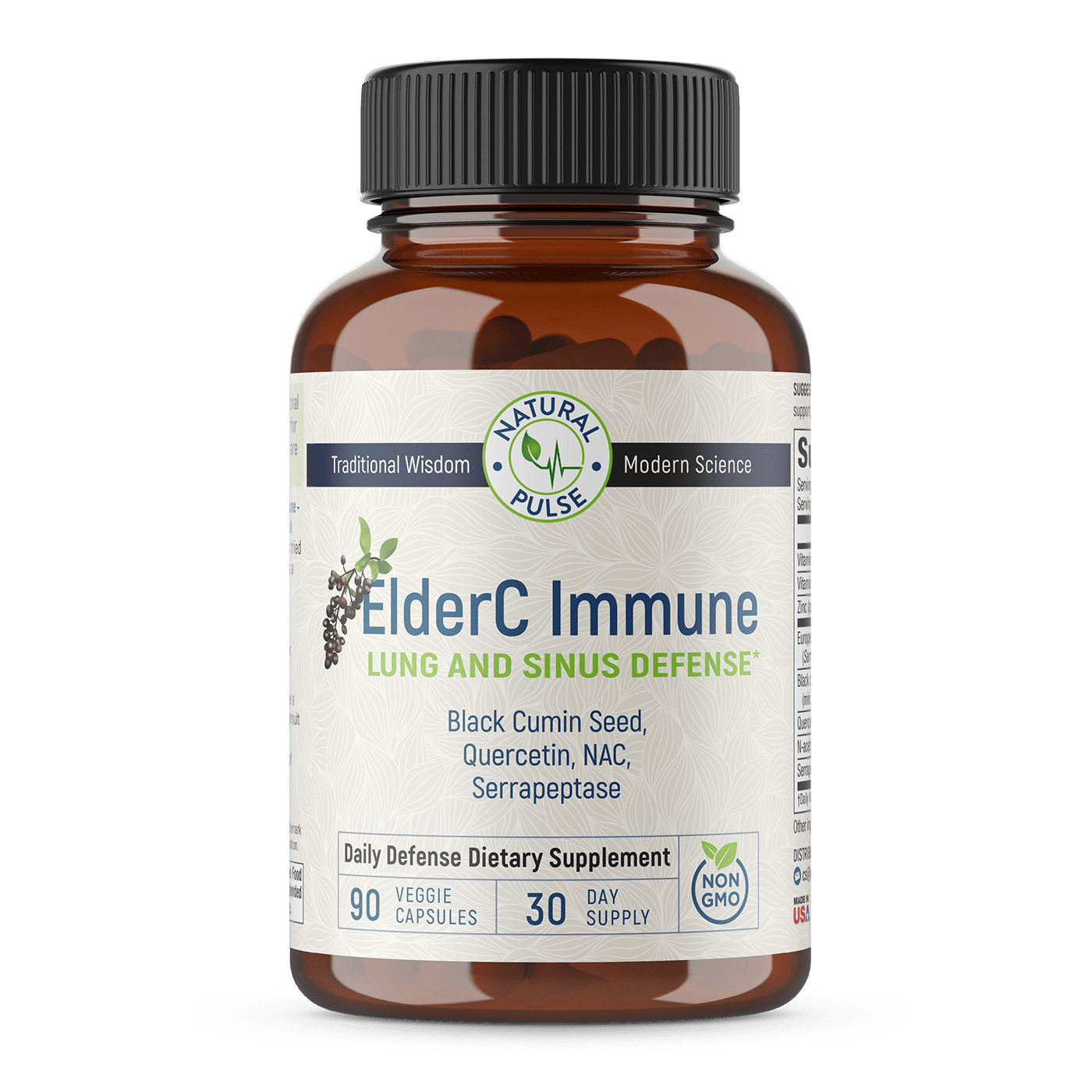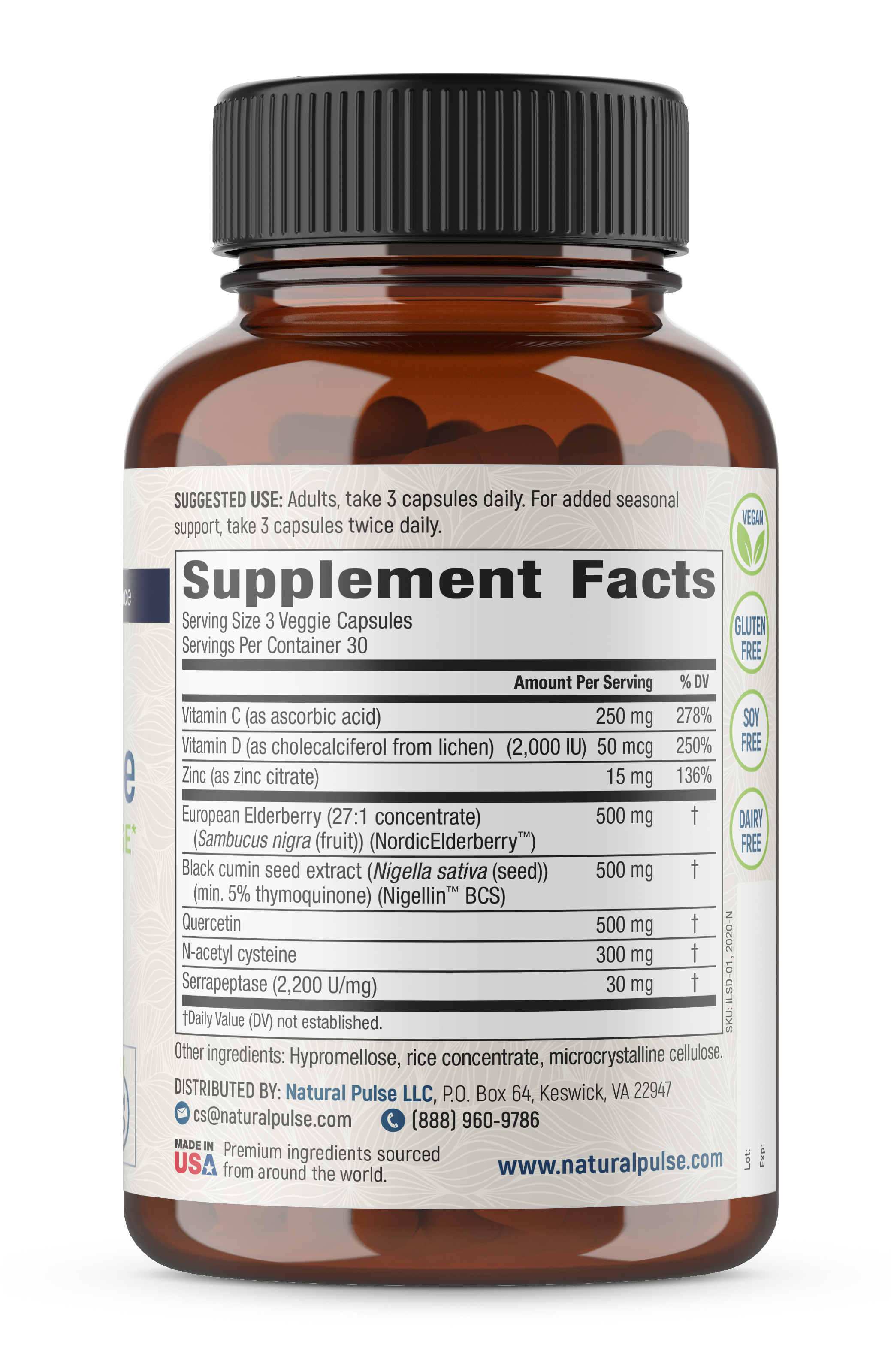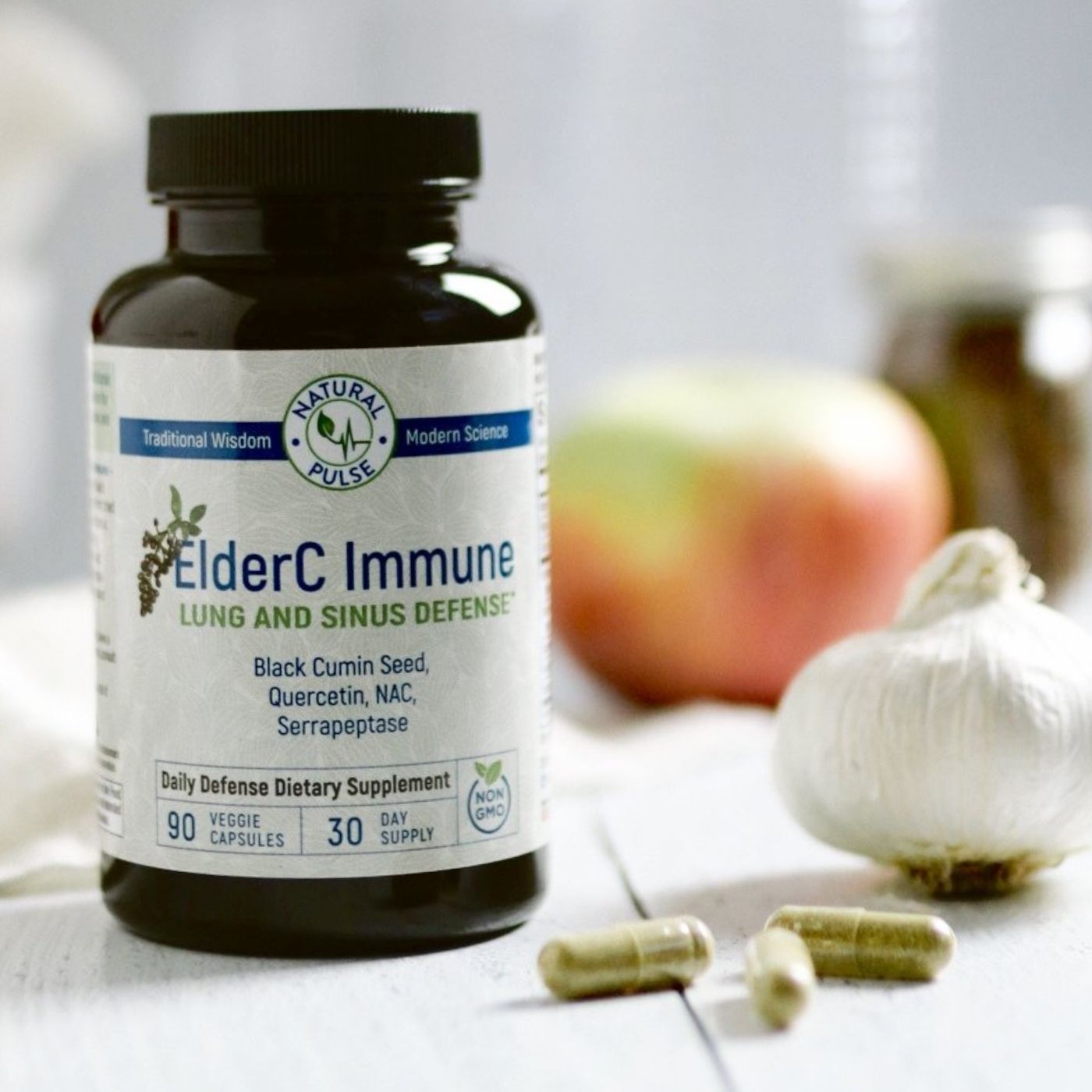 ElderC Immune – Lung and Sinus Defense with NAC
Benefits
Elderberry benefits for lungs: Packed with vitamins C and D3, and Zinc, ElderC Immune – Lung and Sinus Defense features Elderberry and Black Cumin, herbs revered for centuries. Elderberry offers tried and true immune support while Black Cumin provides a one-two punch for lung and sinus health. The lung antioxidant NAC, histamine-balancing Quercetin, and inflammatory support with the enzyme Serrapeptase round out the formula– all designed to promote clear sinuses and breathing.*
Product Highlights
✓ Tried and true immune support with NordicElderberry™, a polyphenol-rich European Elderberry extract*
✓ A powerful and effective combination of black cumin seed, NAC, quercetin and serrapeptase to promote healthy lung function, easy and effortless breathing, and clear, healthy sinuses*
✓ Black cumin seed is a powerful antioxidant which relaxes the tissue lining the respiratory tract*
✓ The lung antioxidant NAC increases levels of glutathione, the body's master antioxidant, and breaks down stubborn mucus in the respiratory tract*
✓ The enzyme serrapeptase relieves sinus discomfort and pressure*
✓ Quercetin balances histamine levels and combats seasonal environmental challenges*
✓ Features the key nutrients vitamins C, D and zinc to promote immune resilience*
✓ Supports a healthy immune system and immune response*
Ingredients
NordicElderberry™ European elderberry concentrate
Used for centuries in European traditions, elderberry provides tried and true immune support and enhances immune resistance to seasonal challenges. As an immune system modulator, elderberry concentrate is rich in anthocyanins and other polyphenols that are responsible for its ability to promote a healthy inflammation response, provide protection against free radicals and balance immune vigilance. NordicElderberry™ is a 27:1 extract produced from European elderberry juice concentrate, meaning it takes approximately 27 grams of fresh elderberries to make 1 gram of product, giving you the power of health-giving elderberry compounds to increase immune resistance.*
Nigellin™ BCS black cumin seed extract
With a documented history of use dating back to the times of the Egyptian pharaohs, black cumin seeds have been revered for centuries for their health benefits. Recent clinical studies on this ancient medicinal herb show that it is a powerful supplement for promoting healthy lung function, clear breathing and improving nasal and sinus health. Black cumin seed contains the compound thymoquinone which has antioxidant properties and can relax smooth muscle tissue, balance the production of histamine, support the immune system and maintain a healthy inflammatory response. These properties make this holy and revered herb ideal for alleviating lung and sinus related challenges associated with environmental sensitivities and triggers.*
Quercetin
A powerful plant compound found in onions, broccoli, kale and other fruits and vegetables, quercetin has immune-enhancing, inflammation-balancing and blood flow supporting effects. As a beneficial free-radical scavenger, quercetin supports the health of various tissues against the ravages of oxidative stress. Most importantly, quercetin prevents the release of histamine from mast cells, reducing the effects of seasonal and daily environmental irritants. Quercetin normalizes the inflammatory response in those with breathing challenges and has antioxidant effects on lung tissue. All of these benefits make it well suited to support clear airways and alleviate respiratory challenges associated with seasonal triggers.*

N-acetylcysteine (NAC)
As a precursor to the master antioxidant glutathione in the body, NAC has been used since the 1960s for its benefits on lung health. Through a multi-pronged antioxidant effect, NAC supports detoxification processes in the body and acts directly against free radicals. NAC also effectively breaks down mucus in the respiratory tract to enhance lung function and healthy breathing. Clinical studies in those with breathing challenges have found that NAC promotes clear bronchial airways and improved breathing and lung function.*

Serrapeptase
Discovered in Japan in the 1950s, serrapeptase is a powerful proteolytic (breaks down protein) enzyme originally isolated from the bacteria Serratia E15 (found in silkworms). Clinical studies conducted over the decades have found that serrapeptase has powerful direct and indirect inflammation balancing qualities. In those suffering from sinus health challenges, serrapeptase has been shown to balance inflammation and reduce sinus discomfort and pressure. It also led to normalized nasal and sinus secretions, reduced swelling and improved overall sinus function. Other studies suggest serrapeptase promotes clear, healthy airways by improving the clearance of mucus from the lungs and sinuses.*

Vitamin C (as ascorbic acid)
As one of the body's core antioxidants and free radical scavengers, vitamin C is key for the function of the immune system and its components. As it is necessary for collagen synthesis, it supports the integrity of the physical immune barrier in addition to increasing the function of B-cells, T-cells and NK (natural killer) cells, allowing the immune system to respond efficiently to daily challenges and stressors.*
Vitamin D3 (as cholecalciferol from lichen (vegan))
Cholecalciferol, or vitamin D3, is the active form of vitamin D in the body and is more potent that vitamin D2. Derived from lichen, our vitamin D3 is vegan, unlike most D3 on the market, which is animal-derived. This vitamin is a critical immune regulator with nearly all immune cells expressing vitamin D receptors. Getting adequate vitamin D ensures a high functioning immune system. Recent research shows an important role for vitamin D in supporting the integrity of the gut barrier, a crucial physical barrier for immune health, with more than 70% of the immune system localized in the intestinal tract. Vitamin D is important for a healthy microbiome and has a role in reinforcing tight junctions, preventing unwanted toxins in the gut from getting into circulation. Over 60% of individuals have insufficient levels of vitamin D, so supplementing with it is vital for optimizing health.*
Zinc (as zinc citrate)
Zinc is a mineral that is required to kick our natural immune defenses into high gear. Not only is it indispensable for its role in antibody production, it also promotes a robust physical immune barrier, including the integrity of skin and mucosal tissue. Additionally, zinc helps with the differentiation of B-and T-cells of the immune system, supporting cellular immunity. Zinc further facilitates the repair and removal of unwanted tissue and cellular material from the body and clinical studies in humans show that zinc supplementation enhances immune function and improves overall health.*

Suggested Usage
Adults, take 3 capsules daily. For added seasonal support, take 3 capsules twice daily.
ElderC Immune – Lung and Sinus Defense with NAC
Guarantee
Fast shipping
Free standard shipping is included for orders with a net value (after all discounts are applied) of $49 or more. 
90-day Satisfaction Guarantee
Although we are confident that you will benefit from our products, we do offer a 90-day money back guarantee. There is no risk to try Natural Pulse Supplements!
Safe Secure Checkout
Feel protected with every transaction. Shopify's compliance covers all six PCI standards and applies to every transaction at naturalpulse.com
It's the Best!
I got this product for my husband cause he was having a lot of sinus problems and trouble breathing. The antibiotics and a shot that he was getting for his lungs to help with his breathing didn't even work. This is the best product and I am referring this to everyone I know that are dealing with the same problems that my husband had.
Very Highly Recommend
Elder C Immune was a life saver!! I stumbled across this product in 2021, when I had come down sick and the OTC's I normally use were not helping. I ordered this because of the all natural ingredients, and within a few days of taking it I was already starting to feel better, after being sick for 3-4 weeks. I highly recommend this product!! It truly works!!! Thank you Natural Pulse!!!
Elder C Immune
I find this product very helpful in maintaining my already strong immune system
All-in-one formula for immune support
Excellent product for allergies, sinuses, cold and flu symptoms. I've suffered from allergies all my life, as long as I can remember. I was looking for a formula that contained all of the right ingredients in one capsule, but I could never find a veggie capsule. But now I have! This product is perfect because it contains Vitamin C, D and Zinc, with the added benefits of Black Cumin and European Elderberry. Along with the vitamins, these natural ingredients support a healthy immune system.