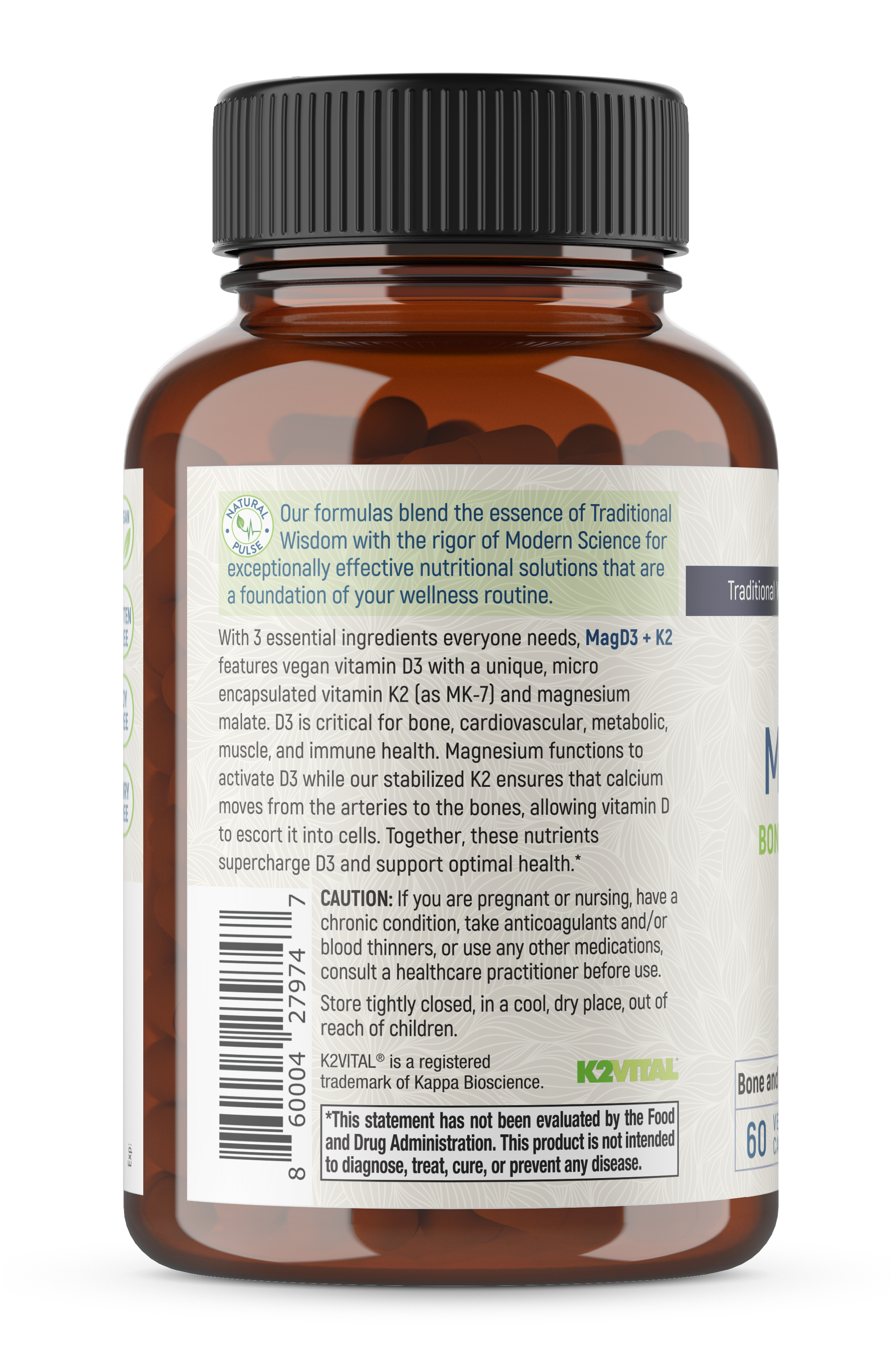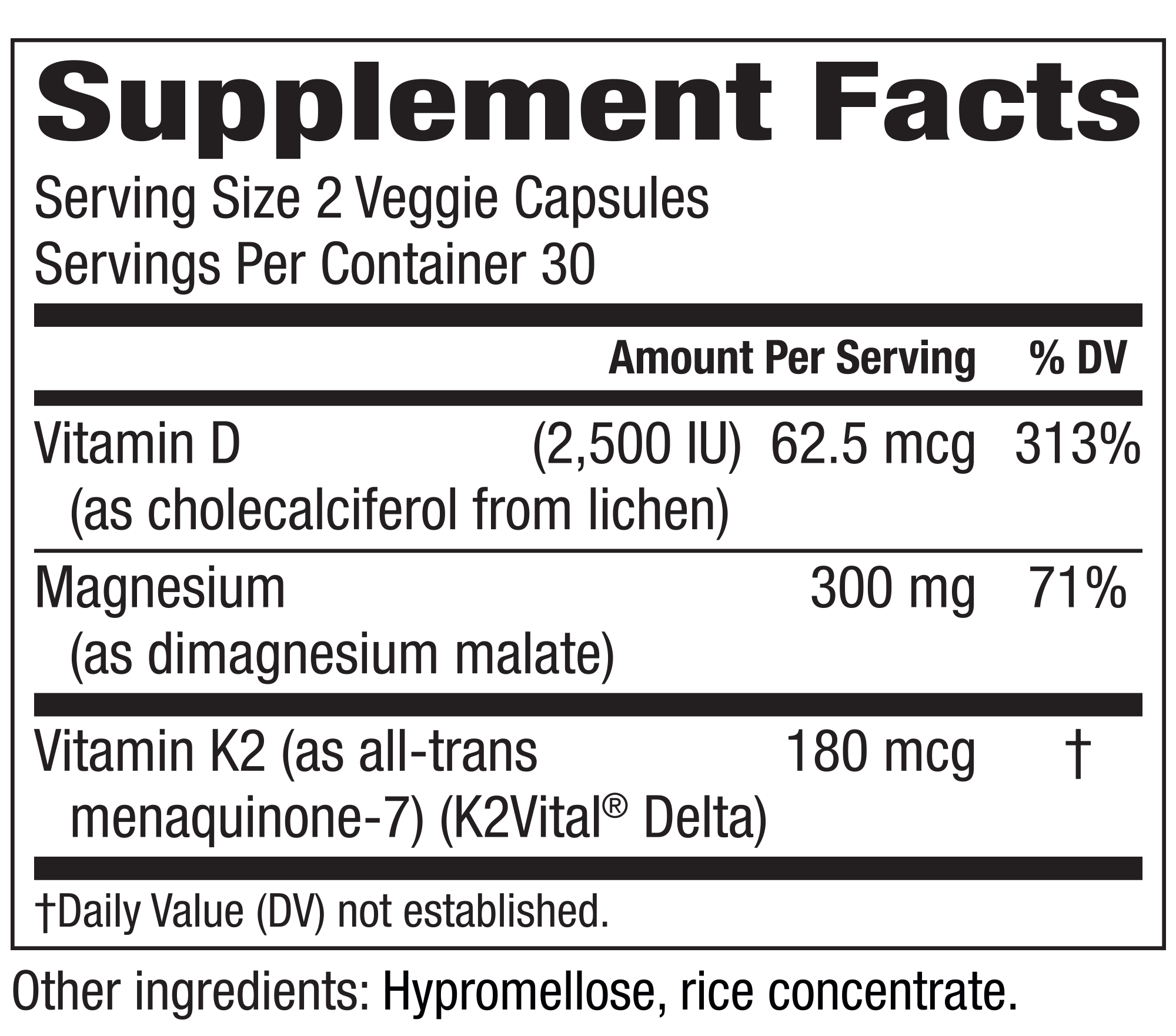 Benefits
With 3 essential ingredients everyone needs, MagD3 + K2 features vegan Vitamin D3 with a unique, double micro encapsulated Vitamin K2 (as all-trans MK-7) ensuring you get the maximum amount of K2 in a stabilized form, and Magnesium Malate. D3 is critical for bone, cardiovascular, metabolic, muscle, and immune health. Magnesium functions to activate D3 while our stabilized K2 ensures that calcium moves from the arteries to the bones, allowing vitamin D to escort it into bone tissue. Together, these nutrients supercharge D3 and support optimal health.*
Product Highlights
✓ Synergistic formula featuring vegan Vitamin D3 along with its key partners, K2Vital® Delta Vitamin K2 (as menaquinone-7) and Magnesium Malate.*
✓ A full 2,500 IU of vegan-sourced Vitamin D3 per daily serving for bone, cardiovascular, metabolic, muscle, and immune health.*
✓ Featuring unique all-trans, stabilized form of Vitamin K2 (as menaquinone-7) (K2Vital® Delta) to balance calcium metabolism in the body, escorting calcium out of the arteries, where it can be harmful, into the bones, where it's needed for bone strength.*
✓ The essential mineral Magnesium (as Magnesium Malate) supports the function of over 300 enzymes in the body, including those involved in bone, cardiovascular and metabolic health, and the production of cellular energy.*
✓ Supplies 3 critical nutrient superstars (Vitamin D3, Vitamin K2 and Magnesium) in scientifically supported amounts, that are often lacking in western diets, in a convenient all-in-one formula.*
✓ Magnesium and Vitamin K2 are important nutrient cofactors for Vitamin D3. Magnesium activates D3 in the body, while K2 is required for Vitamin D3 to escort calcium from the bloodstream into bones.*
✓ Magnesium malate enhances the production of cellular energy in the form of ATP.*
✓ The combination of Vitamin D3, Vitamin K2, and Magnesium Malate is essential for healthy endothelial function, promoting healthy, flexible arteries, and strong circulation.*
✓ Supports a strong healthy immune system and optimal mood throughout the year.*
✓ Suitable for vegans, non-GMO, and free of all major allergens.
Ingredients
Vitamin D3 (as cholecalciferol from lichen (vegan))
Cholecalciferol, or vitamin D3, is the active form of vitamin D in the body and is more potent that vitamin D2. Derived from lichen, our vitamin D3 is vegan, unlike most D3 on the market, which is animal-derived. Among the benefits of vitamin D3 is its critical role in bone, cardiovascular, metabolic, and immune health, really supporting optimal function throughout the body. This vitamin is a critical immune regulator with nearly all immune cells expressing vitamin D receptors. Getting adequate vitamin D ensures a high functioning immune system. Recent research shows an important role for vitamin D in supporting the integrity of the gut barrier, a crucial physical barrier for immune health, with more than 70% of the immune system localized in the intestinal tract. Vitamin D3 supports strong bones, helps maintain healthy glycemic control, and promotes healthy heart function. Over 60% of individuals have insufficient levels of vitamin D, so supplementing with it is vital for optimizing health.*
Vitamin K2 (as all-trans menaquinone-7) (K2Vital® Delta)
Our special, stabilized form of vitamin K2 is a critical nutritional factor that is often lacking in the diet. While menaquinone-7 is present in the food supply, these foods are not commonly eaten in the western world, thus leading to dietary deficiencies. Substantially different than vitamin K1, vitamin K2 as menaquinone-7 has a long side chain, making it one of the most effective forms of vitamin K2. A major function of menaquinone-7 is to activate calcium binding proteins including osteocalcin and matrix Gla protein in the blood and in bone tissue, allowing calcium to move from the arteries into bone. This makes vitamin K2 essential for a healthy cardiovascular system and bones, and it serves to enhance circulation throughout the body. Vitamin K2 is a key partner for the function of vitamin D. While vitamin D plays a role in allowing calcium into bone tissue, vitamin K2 is the key missing link in bone and cardiovascular health because it escorts calcium to the bones, where vitamin D can allow it to enter. Recent clinical studies have found that supplementing with vitamin K2 supports bone and cardiovascular health, as well as optimal circulation throughout the body by keeping arteries clear and supple. K2Vital® Delta provides all-trans vitamin K2 in the form of menaquinone-7. Unlike cis- vitamin K2, all-trans vitamin K2 is the active form in the body. Unlike other vitamin K2 on the market, K2Vital® Delta has enhanced stability in the presence of minerals due to its double-microencapsulation process, which serves to protect the vitamin K2 from degradation, making it the preferred source of this crucial vitamin.*
Magnesium (as dimagnesium malate)
As a key cofactor for hundreds of metabolic processes in the body, magnesium is a critical nutrient for health. Specifically, magnesium supports the body's response to stress, enhances cardiovascular and metabolic health, and plays an important structural role in supporting bone tissue. Malic acid (from malate) is also a key intermediate needed by the body to produce cellular energy in the form of ATP, further enhancing magnesium's important role in energy metabolism. As a strategic partner of vitamin D, magnesium activates this important nutrient, aiding in its conversion to the form used by the body. Magnesium is also critical for healthy blood vessels, blood pressure, and overall heart health. Magnesium is a nutrient that we constantly fail to get enough of daily with over 50% of US adults failing to meet daily requirements. Replenishing magnesium through supplementation can help ensure our bodies receive an adequate amount of this essential mineral.*
Suggested Usage
Adults, take 2 capsules daily.
FAQs 
Who is this product intended for?
This product is intended to be used by adults over the age of 18 who are looking to support overall optimal health as well as bone, cardiovascular, metabolic, and immune function.
Is this product suitable for vegans?
Yes, all ingredients in the product, including the capsule, are suitable for vegans to consume.
Is this product free of allergens?
Our products are formulated to be free of the 8 major categories of allergens as designated by FDA. These include milk, eggs, fish, crustacean shellfish, tree nuts, peanuts, wheat and soy.
In addition, our products are also gluten free.
Can this be taken with other supplements?
Our products are designed to be safe when taken with other Natural Pulse supplements. If you are taking this product with other brand supplements, we recommend consulting a nutritionally oriented healthcare provider.
Can I take this with my medications?
Since certain medications and supplements may have specific interactions, it is best to check with your healthcare provider prior to taking supplements together with medications.
Vitamin K2 may interfere with warfarin and other previous generation blood thinners that are categorized as vitamin K antagonists. Check with your provider to ensure taking vitamin K2 is right for you.
Does this product contain ingredients that have been genetically modified (GMO)?
No, none of the ingredients used in this product are derived from genetically modified sources and, therefore, the product is non-GMO.
What steps do you take to ensure your products meet quality standards?
Natural Pulse has a rigorous Quality Control and Assurance program that every product is subjected to, ensuring it meets our thorough specifications. For more information on our Quality practices, click here.
Is this product Gluten Free?
Yes. All Natural Pulse supplements are gluten free.
Guarantee
Fast shipping
Free standard shipping is included for orders with a net value (after all discounts are applied) of $49 or more. 
90-day Satisfaction Guarantee
Although we are confident that you will benefit from our products, we do offer a 90-day money back guarantee. There is no risk to try Natural Pulse Supplements!
Safe Secure Checkout
Feel protected with every transaction. Shopify's compliance covers all six PCI standards and applies to every transaction at naturalpulse.com
amazing product
I love this product. I am over the age of 50 and I have always had problems with digestion. Constipation was also a problem. When I saw an ad that persons (especially over 50) should take magnesuim for bone health, immunity and other conditions that were important to me. I decided to give it a try. I noticed about 2 months after I started using the magnesium with D3 and potassium, I noticed that when I got up from my chair after prolonged TV binging, I did not feel pain or soreness after getting up after being sedentary. The last dr.'s appt that I had, my doctor said that I was (physically) healthier than most people my age. And guess what! No more constipation. And that was not even the reason that I bought it. As soon as I eat, I am going to the bathroom. I know that this might be too much information but I have to tell it like it is. I have also lost weight and I haven't even been trying. The reason I know that it works is because when I forget to order it and I go a week without it, I am not the same. Buy it. I promise, you wont regret it. I Have been taking it about a year and I do not intend to stop.. If this review is too long, I give the editor permission to condense it, I have more good things to report about this product but I'm afraid my review is too long.