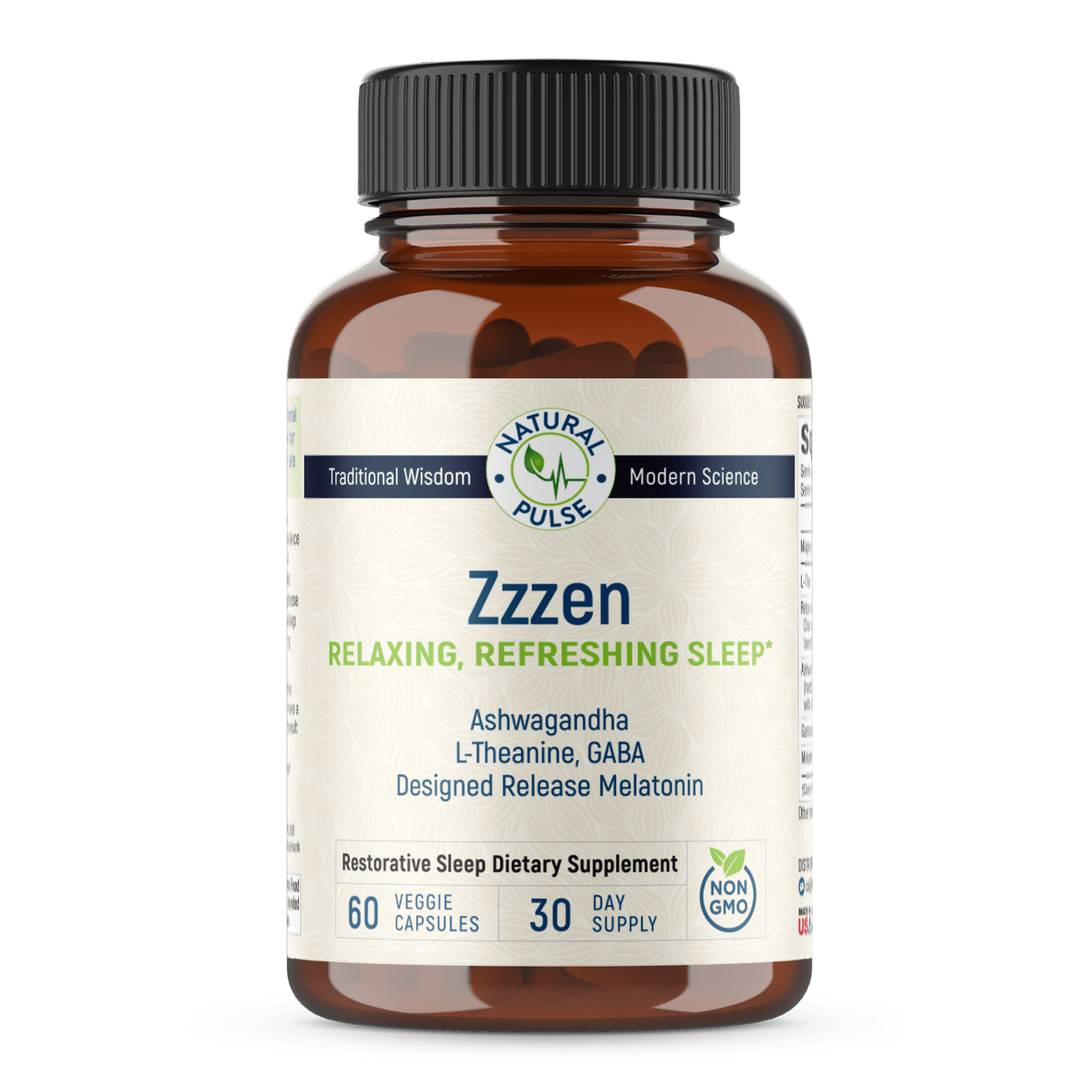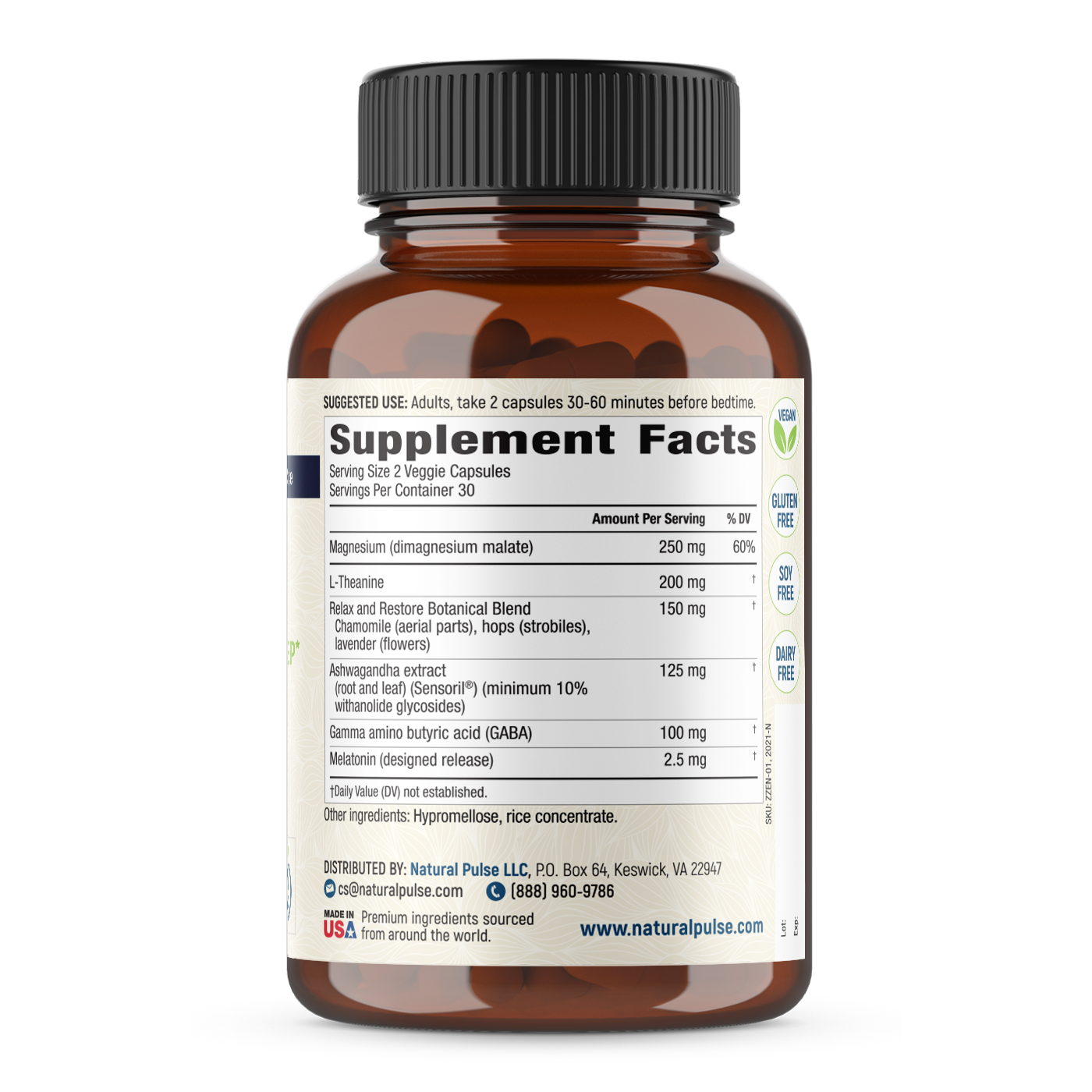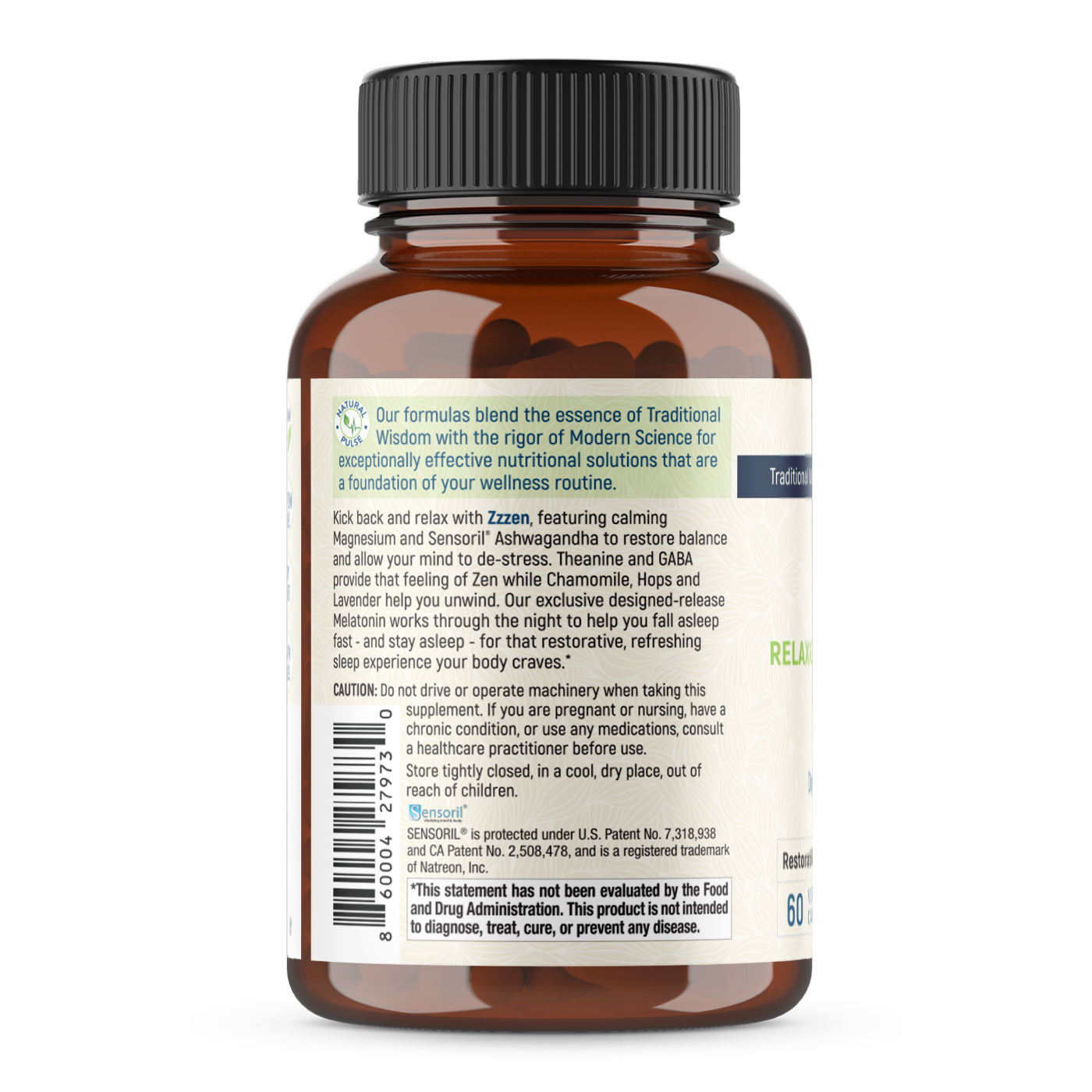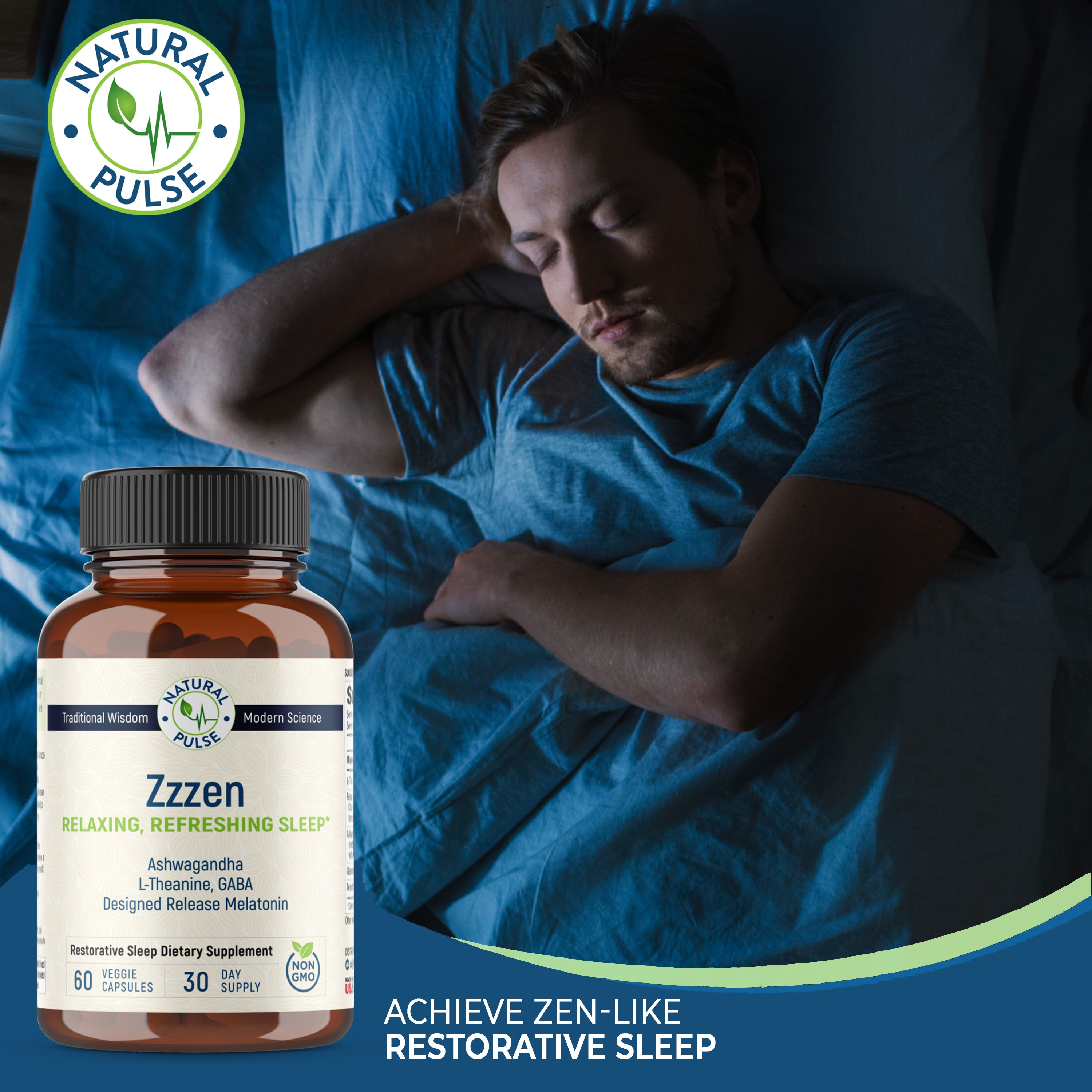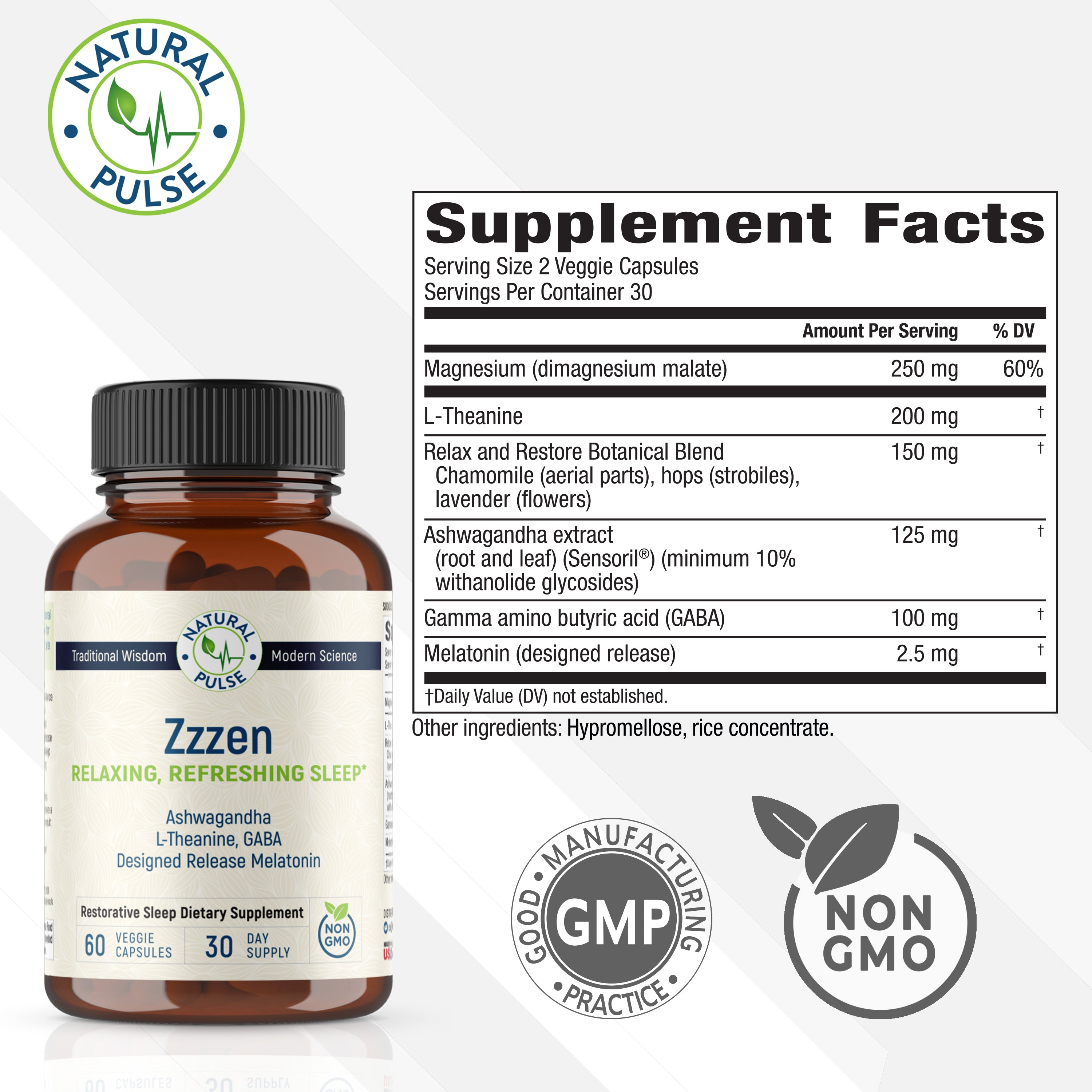 Zzzen - Relaxing & Refreshing Sleep
Benefits
Kick back and relax with Zzzen, featuring calming Magnesium and Sensoril® Ashwagandha to restore balance and allow your mind to de-stress. Theanine and GABA provide that feeling of Zen while Chamomile, Hops and Lavender help you unwind. Our exclusive designed-release Melatonin works through the night to help you fall asleep fast - and stay asleep - for that restorative, refreshing sleep experience your body craves.*
Product Highlights
✓ Designed-Release Melatonin is delivered over time to help you fall asleep fast and stay asleep through the night, promoting restful sleep and no morning grogginess.*
✓ Patented Sensoril® Ashwagandha is a powerful adaptogen from the Ayurvedic tradition that helps your body and mind achieve balance by adapting to stress, reducing fatigue, and enhancing sleep quality.*
✓ GABA is an amino acid neurotransmitter naturally found in the brain that acts to regulate the production of the stress hormone cortisol, promoting a calming feeling, and allowing you to de-stress.*
✓ The amino acid L-theanine is found in green tea and supports a relaxed, yet alert state by inducing alpha-wave activity in the brain for the ultimate feeling of Zen.*
✓ Magnesium is an essential mineral that helps calm the body and mind, supports a healthy mood, relieves tension, and supports healthy sleep.*
✓ The Relax and Restore Botanical Blend features Chamomile, Hops and Lavender, herbs that support sleep, relieve stress, and help you unwind from the rigors of your day.*
Ingredients
Designed-Release Melatonin
Melatonin is a hormone natively produced in the pineal gland of the brain that is critical to helping the body maintain its circadian rhythm and normal sleep cycles. As we age and with exposure to environmental factors, including blue light from digital device use, melatonin production decreases, resulting in poor sleep quality. Our exclusive designed release melatonin works to deliver this nutrient over time to help you fall asleep faster, stay asleep through the night, and enjoy refreshing and rejuvenated sleep without morning grogginess.*
Sensoril® Ashwagandha
As the premier adpatogenic herb in Ayurvedic medicine, ashwagandha is known for its balancing and tonifying properties. It is thought to promote a youthful state of physical and mental health while enhancing mood. As an adaptogen, ashwagandha supports the body's stress response and promotes a relaxed state of mind. Sensoril® ashwagandha is an extract of the root and leaves of the plant and contains a high level of the active withanolide compounds. Sensoril® has been shown to support overall emotional well-being and maintain healthy cortisol levels. Research shows that it can promote healthy sleep quality, reduce fatigue, and decrease elevated levels of stress and tension.*
GABA
Gamma-amino-butyric acid, or GABA, is naturally present in the brain and acts as the chief inhibitory neurotransmitter in the central nervous system, regulating the body's sleep and stress responses. As a neurotransmitter it facilitates communication between nerve cells, with studies suggesting that supplementing with it promotes a relaxed state of mind and improves sleep quality. GABA has been found to support healthy levels of the stress hormone cortisol, reduce feelings of fatigue, and allow the body to cope better during mentally stressful times. It promotes a calming feeling, allowing you to destress and sleep better.*
L-theanine
As an amino acid found in green tea and other foods, theanine is well-known for its relaxing properties without having negative effects on mental function. As an amino acid that promotes a relaxed, yet alert state, theanine supports a feeling of Zen-like calmness, akin to drinking a cup of green tea. Studies show that those consuming theanine feel more relaxed and are better able to respond to stress. Theanine induces alpha-wave activity in the brain, which is an indication of a more relaxed state. Additional research found that theanine can improve focus and concentration during tasks requiring a high level of attention and supports mental accuracy.*
Magnesium (as dimagnesium malate)
As a key cofactor for hundreds of metabolic processes in the body, magnesium is a critical nutrient for health. Specifically, magnesium supports a calm and relaxed feeling and helps the body effectively manage stress. As a nutrient that supports mood health and is essential for nervous system function, research shows that magnesium is beneficial for healthy sleep, energy levels, and for relieving tension and anxiousness. Furthermore, magnesium is a nutrient that we constantly fail to get enough of on a daily basis. Replenishing magnesium through supplementation can help ensure our bodies receive an adequate amount of this essential mineral.*
Relax and Restore Botanical Blend
Chamomile, hops, lavender are herbs that have been used for centuries by natural health practitioners and traditional sages. These botanicals are well-regarded for their ability to support sleep and relieve stress, promote relaxation and help you unwind from the rigors of your daily routine.*
Suggested Usage
Adults, take 2 capsules 30-60 minutes before bedtime.
FAQs
Who is this product intended for?
This product is intended to be used by adults over the age of 18 who are looking to support their body's ability to handle stress and experience restorative and refreshing sleep.
Is this product suitable for vegans?
Yes, all ingredients in the product, including the capsule, are suitable for vegans to consume.
Is this product free of allergens?
Our products are formulated to be free of the 8 major categories of allergens as designated by FDA. These include milk, eggs, fish, crustacean shellfish, tree nuts, peanuts, wheat and soy.
In addition, our products are also gluten free.
Can this be taken with other supplements?
Our products are designed to be safe when taken with other Natural Pulse supplements. If you are taking this product with other brand supplements, we recommend consulting a nutritionally oriented healthcare provider.
Can I take this with my medications?
Since certain medications and supplements may have specific interactions, it is best to check with your healthcare provider prior to taking supplements together with medications.
Does this product contain ingredients that have been genetically modified (GMO)?
No, none of the ingredients used in this product are derived from genetically modified sources and, therefore, the product is non-GMO.
What steps do you take to ensure your products meet quality standards?
Natural Pulse has a rigorous Quality Control and Assurance program that every product is subjected to, ensuring it meets our thorough specifications. For more information on our Quality practices, click here.
Is this product Gluten Free?
Zzzen - Relaxing & Refreshing Sleep
Guarantee
Fast shipping
Free standard shipping is included for orders with a net value (after all discounts are applied) of $49 or more. 
90-day Satisfaction Guarantee
Although we are confident that you will benefit from our products, we do offer a 90-day money back guarantee. There is no risk to try Natural Pulse Supplements!
Safe Secure Checkout
Feel protected with every transaction. Shopify's compliance covers all six PCI standards and applies to every transaction at naturalpulse.com